Nicole Blair, AIA, grew up in Austin and discovered that she wanted to be an architect at a junior high school career fair. She got her undergraduate degree at Cornell, where the architecture program was in flux, leading her to transfer to textile and apparel design. She took several business classes and studied abroad in Florence, Italy, with Syracuse University.
Blair's first job after college was in New York City at the buying department of Bloomingdale's. She also worked for Eisenman Architects, where she learned that even small offices can have an international voice, and for Robert A.M. Stern Architects, where she worked 60 hours a week in the model-building studio, gaining skills she continues to use today. "It was nice to see the differences between those two offices," Blair says. "One was run as an artist studio; the other, like a well-managed corporation."
Blair returned to Texas for graduate school at Rice, where she studied under Lars Lerup. "There was a real focus on the city being a test ground for exploring architectural ideas," she says. "It's a perspective that I still look to. I'm aware how architecture engages the city."
While still at Rice, Blair began working for Webber + Studio in Austin, which is where she learned to put together a construction drawing set. Family friends were calling her, by this time, asking her to renovate their house or design a deck. She started bringing these projects into Webber's office, but they didn't get the attention they deserved. "I decided, 'I can do this on my own,'" she says.
In 2004, Blair established Studio 512 in Austin. The practice is small — just herself and occasional contract help — and she relies entirely on word-of-mouth for new business. Many of her clients, however, are repeat clients. "I often try to imagine, 'If my client was a trained architect, in their wildest imagination what would they design for themselves?' — and I try to deliver that," she says. "Also, my background in textiles and apparel shapes my interest in volume and form and material. And I think a lot about particular craftsmen and artists and what part they might play."
Going forward, Blair hopes to keep her practice small enough that she can stay involved in the details, which she sees as an essential part of the final product. In the future, however, she hopes to balance work with teaching. "I think it's enlightening to interact with younger designers and see how they view the world," she says.
Lincoln Chapel
This 400-sf solid concrete wedding chapel sits on a sprawling site in Georgetown. Visitors approach the building at an acute angle through a natural break in a cactus field. The trapezoidal plan focuses attention on the couple and opens out toward the witnesses. There is seating for 30 inside, and pivot doors, spanning the full width of the building, can be opened to accommodate hundreds more outside. The building shape creates a natural megaphone from the point of the officiant, and the floor is gently sloped for better viewing. Glass doors at the altar end of the chapel allow guests to walk through this threshold to a large oak tree after the ceremony.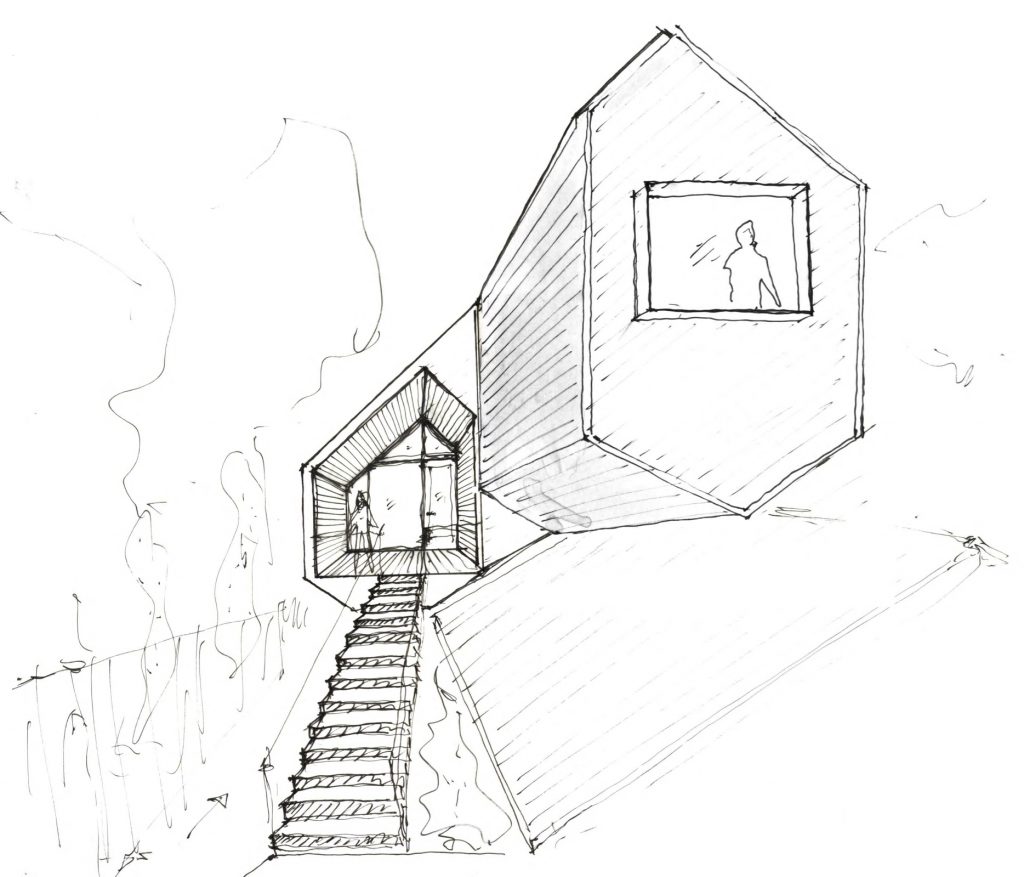 The Perch
This 660-sf studio perches in the air between an existing bungalow and the City of Austin setback plane, which gives it its shape. Four steel columns support the structure, three of which penetrate through the bungalow to align with existing wood-framed walls for lateral resistance, and the studio is accessed by an exterior stair. The steel frame was welded off site and craned into place in a single day to minimize disruption to the mature landscape and to the other inhabitants, who continued to occupy the property during construction. The location above the existing house was chosen to maximize street views, to minimize added impervious cover, and to maintain the existing backyard.
Twin Treehouse ADUs
These ADUs sit side by side on adjacent residential lots behind modest existing residences. The three-level, 914-sf structures are angled to take advantage of sightlines around existing homes, focusing views toward the landscape and street life. Their forms hug City of Austin side and rear setback planes and include a central staircase, three exterior decks, and a covered carport. Each ADU maintains front yard and alley access for better overall site circulation. The side yard setback creates an extended front walk for ADU residents to retain a street presence and receive mail and visitors while preserving the flexibility to park and/or receive visitors in back. Identical in form, the ADUs are outfitted with varied materials to express their uniqueness.