From the outside, Ryan and Stephanie Lemmo's office/home in East Austin resembles the neighborhood's other historic houses, with only hints to distinguish it: a metal gridded fence and a mural tucked behind. Inside, the office is renovated with clean, white walls and a skylight washing the office and conference room with daylight. Behind the conference room wall is the Lemmo residence. As is the case for most of their oeuvre, the LA-N-D office makes a simple solution do a lot of work.
The Lemmos, both AIA, lived across the North American continent from one another before meeting at Rice University. Stephanie, born in Puebla, Mexico, grew up in the Rio Grande Valley, where a vast delta landscape dominates sparse cityscape. Ryan grew up in New Jersey and went to a Waldorf school, the artistic son in a handy family.
Architecture is a six-year program at Rice, with a preceptorship fifth year spent working in the field. The Lemmos spent theirs in New York City. It was spring 2008. Stephanie was working at Pei Cobb Freed & Partners, and Ryan at Cook + Fox. Right when the semester started to wrap up, the financial crisis hit.
"Over 60 percent of the office — so, everybody I worked with — was laid off," Ryan says. "We went back to school for the last year but when we graduated it was like, crickets. Nobody was hiring, and everybody was concerned about the direction of architecture."
After graduation, six months of mailing resumes and a cross-country road trip, both Lemmos went home for the holidays without a job. Ryan reconnected with his uncle, a landscape architect, who helped them both find work in Boston. Ryan worked at Maryann Thompson Architects and Stephanie for Michael Van Valkenburgh Associates. Stephanie went on to work for Ann Beha and Kyu Sung Woo Architects before leaving Boston.
In 2014, with the economy back on track, they moved to Austin and established LA-N-D — short for Lemmo Architecture and Design. The practice takes on a diversity of projects, including residences and restaurants, as well as a nail salon and veterinary clinic. Their design process is highly collaborative and responsive to the site, the cultural context, and the people for whom they design.
Going forward, the Lemmos want to continue to solidify their identity with a diverse range of project types, and they hope to branch out into institutional work — "community, educational, or museum spaces," Stephanie says. "Either way, we will continue to strive for making timeless architecture."
Clear Rock
Completed in 2016, Clear Rock is a jewel box in the landscape. The 450-sf building has a peculiar program: It is a writing studio, an observation deck, and a hunting blind. Nestled into a limestone cliff, Clear Rock is accessed from above: A steel staircase leads visitors down to an interstitial dog-run landing. The siting was determined by mapping the wooded cliff edge to determine the most ideal vantage point from which to survey the vast landscape. A weathering steel envelope pays homage to the owner's youth spent welding oil tanks. An orthogonal grid delineates the project, distinguishing it from its rugged surroundings.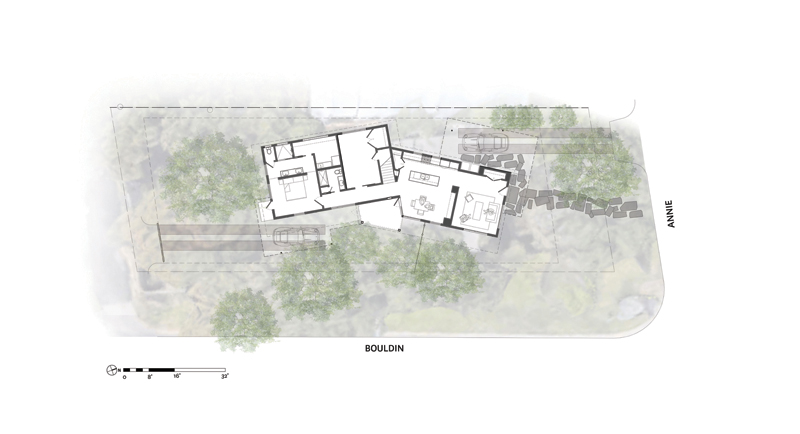 Bouldin
This residence in the Bouldin Creek neighborhood of Austin was designed to accommodate a couple who wanted to cohabit in the home while maintaining independent spaces. There are two separate driveways — his and hers — and an exterior form of two intersecting volumes clad in two different materials: stucco and garapa wood. The volume shifts to accommodate trees and scales down in elevation to human scale near the sidewalk, adapting in turn to natural and built contexts. The result is one whole made up of two distinguishable, but not fully distinct, pieces.
"Urban Scrim" at Creekshow 2018
"Urban Scrim" was an art installation in Waller Creek, debuted at Creekshow this fall. It projected shadows of pedestrians onto fabric panels stretched along the creek, casting brilliant reflections on the surface of the water. A pedestrian bridge extended through two rows of panels, allowing patrons to experience the piece from the shore as well as from within. Scrim acted as a serene beacon of light, serving to attract viewers from the busy bustle of downtown. The installation created balance between Waller Creek's serenity and the surrounding urban activity through the simple means of material and light.