Mark Leveno and Amy Wynne Leveno, AIA, met in architecture grad school at UT Austin. They worked for several firms in Texas, Washington D.C., and on the West Coast (Amy at Page, Koning Eizenberg Architects, and Corgan; Mark at Steven Ehrlich Architects and bcWorkshop) before taking a side-step to the Savannah College of Art and Design during the recession. Mark studied for an MFA in furniture design, and Amy was on the architecture faculty. At SCAD, they developed a business plan that involved returning to Dallas (where Mark grew up), taking out a small business loan, and opening a design studio with a wood and metal workshop, which became OFFICIAL. In 2012, they made this jump and ended up living and working out of the studio as they slowly built their firm. "We didn't have the somewhat-typical scenario where we had a client from another firm," Mark Leveno says. "We took a big leap and started from zero. We wanted a studio that expressed everything we believed in and what we were trying to go forward with."
OFFICIAL aspires to create spaces that are full of joy and natural light, while also being logical and functional in the final execution. "We want a space that feels bright and fresh but not sterile," Amy Leveno says. "We usually try to incorporate a level of warmth, and I think our work at the furniture scale allows us to create a tactile, human-scale element that's inherent in our architecture."
Variety defines the path ahead for the practice. "When you have this diverse portfolio — when you're bumping from, say, a chair up to a bigger corporate office, or a brand-new house — you're thinking at these different scales and problem-solving in different ways. I think it keeps us on our toes and keeps our work fresh." OFFICIAL has no intention of focusing strictly on residential spaces, and their forthcoming projects reflect their ambition, which is "to do projects that have an impact on a lot of people." In a way, Mark said, "that's kind of both our background and interests through school and our first jobs."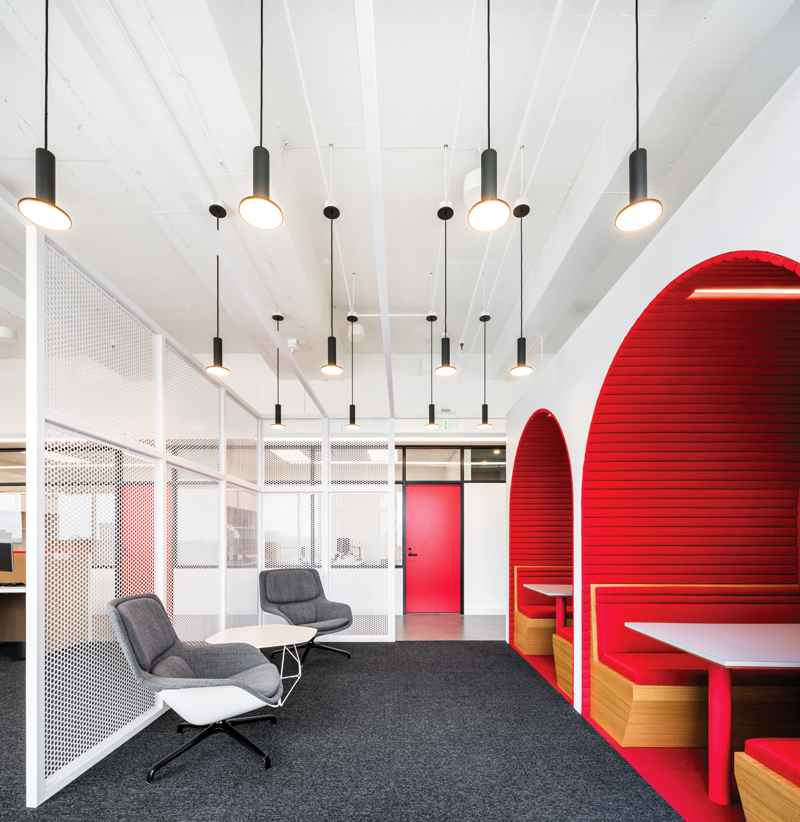 CIVITAS
The 22,000-sf office on the eighth floor of One Arts Plaza in the Dallas Arts District is organized by a series of formal and informal paths that conceal and reveal a range of work areas. Upon exiting the elevator, guests are treated to a dramatic view of the entirety of the district, and a sliding door punctuates the transition to the open office where the space becomes team-centric. Collaborative workstations wrap the perimeter, and private offices define the core, allowing staff access to natural light and expansive views. A perforated steel cube breaks up the open office, providing lounge chairs and upholstered booth seating with custom shelving that supports cell phone video conferencing and charging of devices.
RIVERHILLS RESIDENCE
The Riverhills Residence, built on a one-acre site, was designed around a west-facing panoramic view of Fort Worth. Riverhills uniformly drops at the center to create a natural internal court, which embeds into the hillside and results in a low-slung structure with an unassuming street presence. The house itself looks externally to the views and internally to the court and pool. A continuous balcony wraps the second level and connects down to the landscape, providing ever-changing perspectives of the internal court and expansive vista. Deep overhangs and sliding solar screens mitigate sunlight while maintaining openness and views.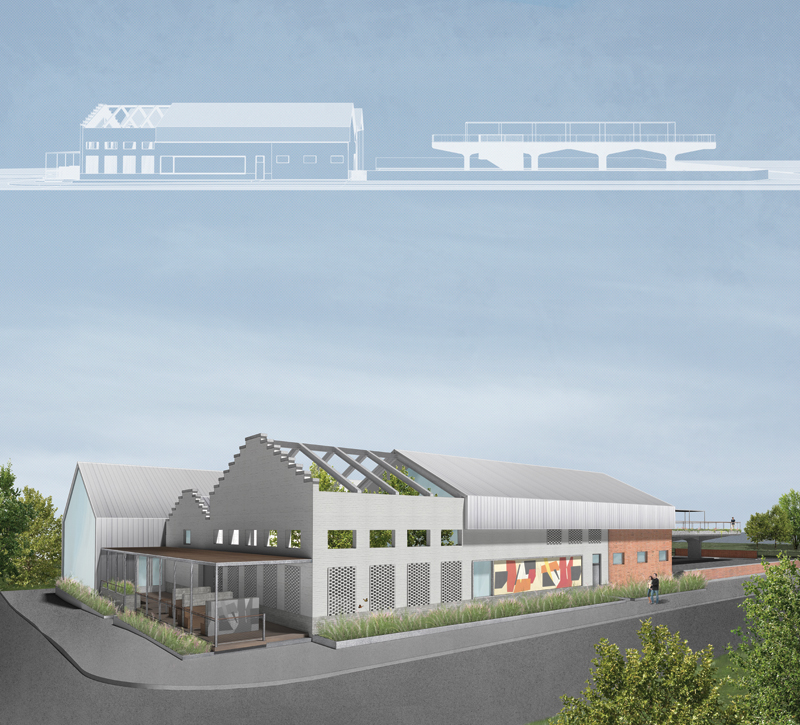 OAK CLIFF ICE HOUSE ADAPTIVE REUSE
The Oak Cliff Ice House in Dallas was constructed in 1915 as an ice manufacturing facility but has been underused and underappreciated in recent years. The adaptive reuse project is a cross between preserving the existing brick shell and adding new architectural interventions. After careful exploration of a multitude of programmatic ideas, the architects have focused design on creating a multiuse solution that includes a restaurant and creative office space with an elevated urban garden. The design concept centers around engaging occupants with interior courtyards through new construction within the historic structure and allowing the merging of old and new.