Woven into the complex architectural fabric of San Antonio is a series of modern but folksy gems, expert explorations of place and people realized through a local material palette. The man behind these is Tobin Smith, AIA. With roots in San Antonio, Smith has been practicing in this rapidly growing city since 2002.
From a young age, Smith loved to build. Early memories of stacking furniture to create spaces ("I'm sure my parents were not thrilled") grew into model-making and treehouse construction. In high school, an art teacher introduced Smith to the basics of architecture by showing him the greats and explaining why they mattered. From there, he was hooked. He followed this passion to Cornell University, where he received his Bachelor of Architecture.
After graduation, Smith moved back to San Antonio, where he had spent his early childhood. He began working at Lake|Flato Architects and spent the next five years immersed in the firm's brand of regional modernism, working on projects in San Antonio and beyond. In 2007, Smith's desire to continue exploring architectural ideas and language pushed him to "take the leap," and he opened his own firm, Tobin Smith Architect. He has since brought out his own architectural voice through a constant evolution of the creative cycle.
"Architecture is a wonderful career because it isn't formulaic," he says. "You have to be learning and adapting to new technologies, challenges, places, and techniques to try to refine what it is you do. There has to be growth. So, while there is gratefulness and contentment, I also have a burning desire to get better and do better work."
Since its inception, Tobin Smith Architect has focused a large part of its direction on fostering close client relationships. The office of four employees — two full-time and two part-time — works diligently to explore the total architectural potential of its clients' desires. These exchanges allow the firm to resolve general ideas and minute details of a project in ways that satisfy the customer while remaining architecturally sound.
Driven by clients whose dedication to projects match his own, Smith intends to continue "composing heightened and memorable sensory experiences through the organization of space and deployment of materials." The office's body of work is about 80 percent residential. Smith hopes to continue working at this scale, while also expanding his commercial portfolio. "We're open," he says, "and we want to be as impactful as possible in our community."
Ravine Retreat
The Ravine Retreat, completed in 2015, is a spatial experience that pulls the inhabitant from the suburban neighborhood into a private, natural realm. The structure's heavy stone facade fades into a series of floating volumes as it moves further into the property. Constructed around three mature oak trees and a small valley, this 8,252-sf single family home uses daylight, views, and natural elements to guide users through a series of large sheds and lower, flat-roofed interstitial spaces. Smith harnesses the energy of the site in the great room, a bridge straddling the ravine to reveal the site's natural features and the perpendicular body of the house hovering over the glass-walled game room and pool deck below.
Casa Escuda
Casa Escuda uses a pre-planted hedge and monolithic limestone facade to shield this single-family home from its relatively busy surroundings. An oxidized steel half-cylinder tower, the only element of the structure that exceeds the height of the wall, marks the entry. Here, all major materials within the project are represented: stone, white plaster, oxidized steel, galvalume, and wood. Upon crossing this heavy threshold, visitors enjoy completely unobstructed views of the neighboring Olmos Basin through floor-to-ceiling windows. Programmatically driven fins divide these spaces along the unique curve of the lot and shield the expansive glazing from the northern sun.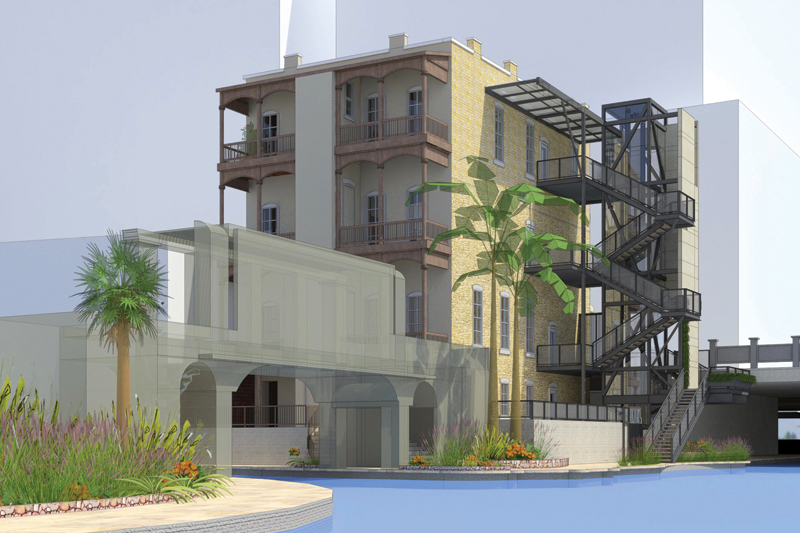 El Compañero
This proposed project aims to enhance the beating heart of the city — the San Antonio River Walk. In collaboration with Douglas Architects, Smith created a connection between one of downtown's busiest streets and a relatively underserved portion of the river. This critical modern appendage provides ADA access and egress via a central elevator core and stair. Respectful in its relation to the existing structure, the proposal is set back from the street, smaller in both plan and height, and incorporates an unobtrusive color and material palette. Four thin landings connect each level of the existing structure to a porous steel stairwell that is primarily concealed from street view by the limestone-clad elevator core.