If you're reading this, you probably already think that cities need architects, so there is no need for an exposé detailing the arguments to that point. The buildings that make up our cities do come from the lines of an architect's drawing, but unfortunately architects sometimes have an oversized impression of the degree to which they impact and shape the urban realm. One could argue that the true power lies with the developers and investors who are actually initiating projects, financing them, and selecting specific architects to complete them.
Because cities need architects, cities also need developers who value architects. This architect should be one for whom the basic mandate of protecting the health, safety, and welfare of the general public is a baseline, one who believes their true responsibilities vastly exceed this mandate. It is these civic-minded, people-focused, and energy-conscious architects that the developer needs in order to create timeless and enduring projects. The relationship is symbiotic. Our cities are littered with many buildings erected with little design consideration, yet despite the overwhelming ubiquity of these poorly designed places, there is good work being done. Here, we profile three Texas developers who value architecture and urbanism, creating fantastic places in the state's largest cities.
NEIGHBORHOOD-SCALED PLACEMAKING
Steve Radom | Radom Capital, Houston
Steve Radom's previous experience as a CPA and a lawyer helped him understand the financial side of development. Also helpful was the time he spent working with his father, a commercial real estate developer. When he took note of an urban resurgence in inner loop Houston, Radom saw an opportunity to redevelop in the city's core. It was then that he founded his company, Radom Capital, and began his career as a developer. After nearly four years, Radom Capital has amassed an impressive collection of built work.
The projects display a distinct reference to their context, riffing off historical styles while creating something distinctly elegant via thoughtful detailing, attention to natural daylighting, and approachable materiality. Consideration of the neighborhood is paramount in Radom's process as the firm envisions each project. The development team, which includes a landscape designer, performs an internal charrette in which they imagine themselves as residents of the block and consider factors such as appropriate density, connection to the neighborhood, massing, and tenant mix. After the charrette, they ask, "What architect do we know that would be the best fit?" 
When it comes to architects, Radom puts it very matter-of-factly: "You pay for what you get." Having worked with such design-oriented firms as Michael Hsu and Schaum/Shieh, his respect for design is obvious. So how does he justify the additional cost spent on architectural fees and upgraded structures when he could easily spend less to create something formulaic? "Ultimately, every project is benefited by having the best team possible," Radom says. "You will always encounter uncertainties, including construction issues, market cycle exposure, and an ever-changing tenant landscape. One important manner to reduce risk is to have architecture that is enduring, timeless, bold, and thoughtful. By having the right architecture, you largely de-risk the most unknown part of the equation: whether your development will be well-received by users. You're investing up front to reduce risk later." He adds, "We are very fortunate to be 100 percent leased in every development project."
In speaking with Radom, it is instantly apparent the care and enthusiasm with which he approaches his projects, genuinely wanting to positively impact the neighborhood. When all is said and done, though, development is still a business. Radom Capital has demonstrated that investment in design creates better space for the neighborhood and users while also adding value for the developer.
A DEVELOPER'S CASE FOR THE CITY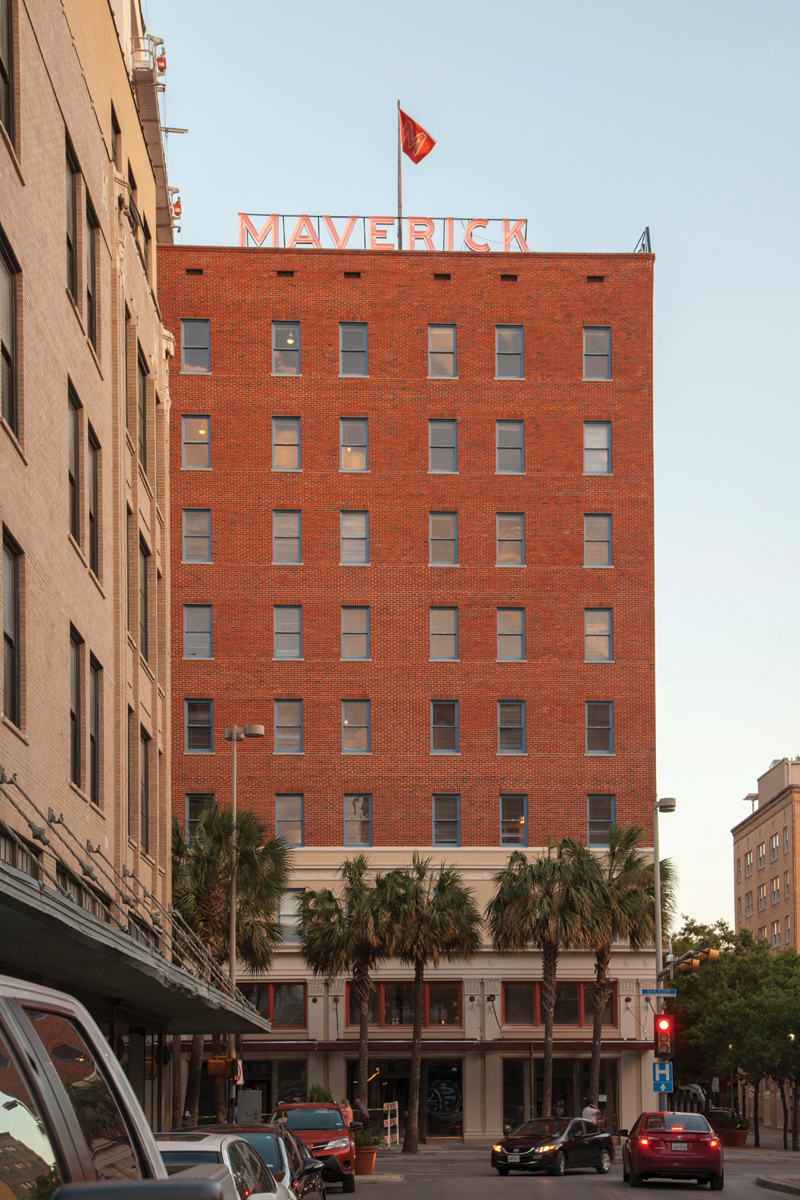 David Adelman | AREA Real Estate, San Antonio
Real estate is in San Antonio native David Adelman's blood. Helping his parents with their rental houses formed the foundation of his experience, leading him to purchase his first rental property at the age of 16. After his sophomore year at UT, he obtained his real estate license and his official career began. It is the only vocation he has known.
Adelman's ultimate goal of developing long-lasting, high-quality, income-producing real estate has led him to work in San Antonio's urban core. As he puts it, "In the urban core, it just works better." In his view, in a suburban context it is difficult to overcome being viewed as a commodity. The center of gravity is always moving outward to the next hot area, making it difficult for the project to have any enduring inherent value. "If you put a blindfold on and I took you to a suburban garden apartment in Plano, Scottsdale, or San Antonio, when you took off that blindfold, you wouldn't know which city you were in," Adelman says. "There really is no product differentiation, so therefore, market pricing is simply a result of basic supply and demand economics." In the urban core, on the other hand, "walkability, height, and quality can drive increased revenue," he says. "There tends to be more adaptive reuse, due to historic building stock that is typically in play." Adelman likens special urban buildings to a rare material, like a diamond.
With this philosophy, Adelman and his company, AREA Real Estate, have left a profound mark on downtown San Antonio. They are always in search of density, trying to increase the vibrancy of the city center. "The buildings working together are more important than any one building," he says. "If you live in an apartment building and have a dog, you'll be outside. There is a bigger context for your life. Really great architects can look beyond the building they're working on and understand how they fit into their environment."
One of Adelman's most prominent projects is 1221 Broadway, by Lake|Flato with OCO Architects. A partially complete, deteriorating, and abandoned residential complex was transformed into an award-winning project. This revitalization brought life to the periphery of San Antonio's downtown and helped bridge the gap between downtown and the Pearl District. With this project, Adelman forged an interesting partnership with David Lake of Lake|Flato. In addition to being the architect, Lake was a development partner. Adelman describes this as an "alignment of interest" of the architect and the developer, leading to better performance on the part of the architect. The typical architectural income scheme is misaligned with the owner's goals, with the architect often making more money when the project cost increases. In Adelman's words: "It's one thing to claim to manage the budget, but another thing altogether when the architect is an investor." Adelman wishes more architects would be investors and partners in their projects, saying it would lead to better results.
ARCHITECTS ARE GREAT, BUT THEY SHOULD DO MORE!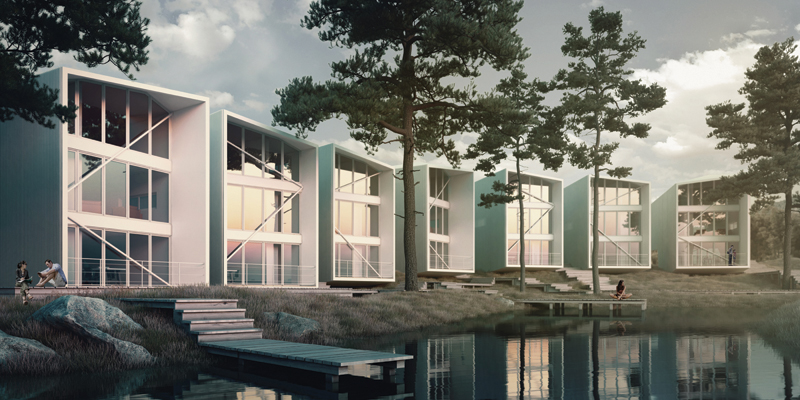 Diane Cheatham | Urban Edge Developers, Dallas
Diane Cheatham is a longtime Dallas resident, having moved here after a stint in Wichita, Kansas, where she received her first exposure to real estate. Once back in Dallas, she got a job with Richard (Dick) Mullen, an office developer with a "design bent," as she puts it. Eventually, she met Lionel Morrison, FAIA, and was impressed by his passion for design. She spoke with Morrison about helping to renovate her house at the time, a typical North Dallas builder home, and Morrison simply wasn't interested. One year later, the Cheathams had moved into a Bud Oglesby-designed townhouse in Dallas' Oak Lawn neighborhood. They were impressed by the beautiful, modern simplicity of the home. They reconnected with Morrison, who was now quite agreeable to design a renovation. Cheatham was so pleased with the resulting space that it served as her inspiration to begin her own ventures to create more homes in a modern sensibility.
After a number of successful townhome projects scattered throughout urban Dallas, Cheatham set her sights on creating something larger, at the scale of a community. The Urban Reserve is a neighborhood of 50 modern homes by 27 different architects nestled between a previously existing single-family neighborhood, a DART rail line, and the White Rock Creek hike and bike trail. Special attention was paid to such details as the front yard setbacks, which were kept to a minimum to create a close-knit collection of buildings instead of buildings-as-objects set apart by large, manicured lawns. The result is a physical place unlike any other in Dallas, one that has fostered the growth of a cohesive community. Neighbors socialize frequently, connecting over a shared love of cooking, cycling, nature, and so on.
Her subsequent venture, Urban Commons, is a new neighborhood two miles east of the Urban Reserve. This new community will feature clusters of homes of various sizes and price points oriented around common green spaces. One developer/architect team will design all the homes in each cluster (there are typically eight homes in a cluster). It is the next iteration in Cheatham's quest to create a unique, community-focused neighborhood, "where people are connected based on what they love in life, not based on their age or the size of their pocketbook."
Over the years, Cheatham has worked with many Dallas architects through Urban Reserve and her other developments. It has given her a unique insight into the world of the profession. "Architects aren't generic," she says. "I've worked with a lot of architects over the years, and each one has their strengths and foibles. I think it's critical to match those strengths with the needs of each project. Good architects can bring insights into my ideas and programs for development, finding opportunities that I may have overlooked. I like to work with architects that will listen to my ideas and understand my priorities, but will push back — gently — when they really think there may be a better way."
It is this ability to find "a better way," this insight of architects and urbanists, that has left Cheatham feeling as though architects have not done enough in the public discourse. "Architects provide good guidance," she says. "I wish architects took more control at a city level. As cranky as it can be, the Dallas Observer provides a very good service to the people of Dallas. I wish architects would write more articles and give more input visibly."
She also believes architects have not done enough to promote themselves and communicate their value to the public. She feels that the American Institute of Architects needs to do a better job of convincing people of the worth of an architect: "The AIA needs to do more marketing. Hold more symposiums. Hold classes for people wanting to design and build a new house. Promote the value of living in a home designed by an architect." Given the current status of "design awareness" of the public, it is hard to argue with her assessment. Cheatham mentioned how Morrison and Max Levy, FAIA, are uncompromising when it comes to design, recounting a story of when Levy fired a client for muddling the design too much. "Architects should be more like Lionel or Max from the start," she says.
Better Communities, More Money
The concept of creating and fostering community is consistently present, threading together the disparate work of these three developers. These communities have reacted with overwhelming positivity to their design investment. Radom's buildings are all leased; Adelman's 1221 residences are virtually full; and the Urban Reserve is nearly built out. Also present is a shared belief that through working with architects to produce projects that are good for our cities, the developer's bottom line can be positively impacted. They all believe it to be a smart financial decision to hire a talented architect. This value comes not from their stamp from the Texas Board of Architectural Examiners, but from their ability and willingness to stand up for thoughtful design, sustainable practices, the well-being of people, and the well-being of the city. Our cities, and therefore our developers, need architects who will be unwavering in their commitment to good design, no matter for whom they are working.
Andrew Barnes, AIA, is founder of Agent Architecture in Dallas.