These new textiles for walls, panels, and upholstery offer a range of performance capabilities, colors, and innovative designs.
New Upholstery Options
Carnegie
carnegiefabrics.com
Carnegie's new line of high-performance commercial upholstery includes bold, multi-colored patterns and textured plains, some applicable to panels or other surfaces. The collection includes: Axion, a classic yet bold épingle velvet that is bleach-cleanable; Amplify, a large-scale linear pattern in a poly/upcycled cotton blend with a clean graphic look; Honeycomb, a versatile patterned-plain poly/nylon blend in 10 bright shades; Brushstroke, a plaid-inspired polyester; and Rhythm, a mélange wool in 11 colorways.
Volar Bio
Ultrafabrics
ultrafabricsinc.com
Crafted in Ultrafabric's Japanese mill, Ultraleather Volar Bio is the brand's first bio-based collection. Corn-based content is blended with polycarbonate resins for the fabric surface, and wood pulp-based materials are incorporated into the twill backcloth. The leather-grain-like fabric has a semi-lustrous, matte surface in a subtle range of natural colors. The Class A-rated fabric has earned a 29% BioPreferred Program Label from the USDA. By 2025, the company aims to include bio-based ingredients and/or recycled content in 50% of all new product introductions.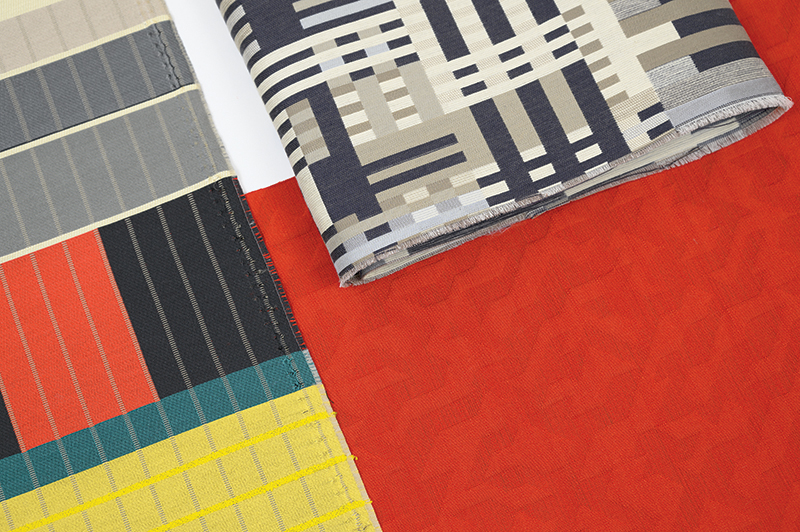 The Bauhaus Project
Designtex
designtex.com
In celebration of last year's Bauhaus centennial, Designtex introduced eight upholstery textiles and digitally printed wallcovering designs based on the work of Gunta Stölzl and Anni Albers, who played a crucial role in developing the weaving program at the Bauhaus. The five woven textiles in the Stölzl collection — ranging in construction from wool to postconsumer recycled cellulose — are inspired by her original work or weaving practice, including her pattern repeating methodology. The three geometric textiles in the Albers collection, including the monochromatic Mountainous pattern produced via 3D weaving techniques, were developed in close collaboration with the Josef and Anni Albers Foundation.
Husk
Kvadrat Febrik
kvadrat.dk
Designed by architect and industrial designer Marc Thorpe, Husk is a knitted textile with a 3D ribbed structure, inspired by the leafy outer shell of an ear of corn. The tactile ribbing, in thicknesses of 5 to 10 millimeters, runs parallel to the self-finished edge of the fabric. Suited for residential or commercial use, Husk is constructed with two different colored yarns that unite to create a uniform mixture in 10 colorways. The stretchable, knitted construction allows Husk to easily cling to various shapes of furniture.
Ecoustic Edge
Unika Vaev
unikavaev.com
Ecoustic Edge is an architectural acoustic ceiling and wall tile that creates brickwork patterns. A more refined scale (15.75-in. by 7.87-in.) allows designers to make better use of the available wall space and create endless textural designs. Designed by Sydney-based industrial designer Adam Goodrum, the tile is made of 100% PET with more than 50% recycled content. An optional infill supplied for each tile improves sound-absorption capabilities. Wall mount clips allow for quick and efficient installation for an acoustic upgrade to a variety of interiors.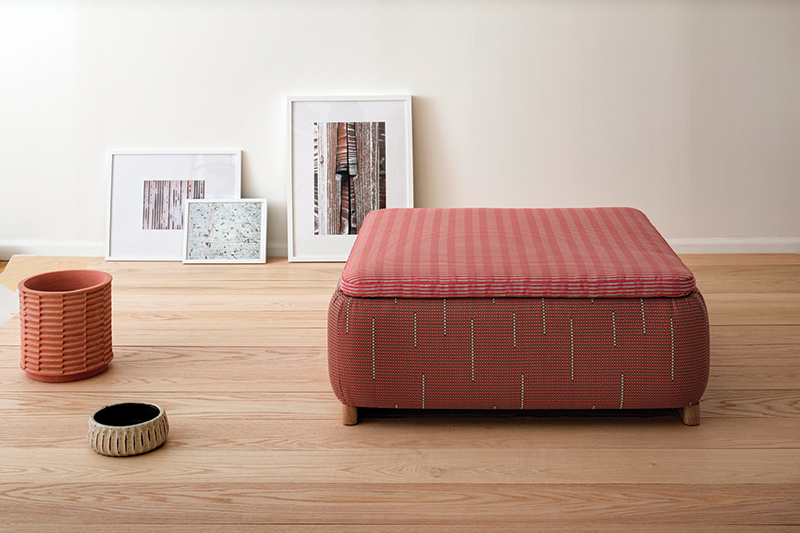 VEER by Aliki van der Kruijs
Wolf-Gordon
wolfgordon.com
Wolf-Gordon's VEER commercial upholstery collection, a collaboration with Dutch artist Aliki van der Kruijs, was created by the exploration of 2- and 3-D space through a subtly manipulated grid motif. The three patterns in the collection include: Float, a linear high-performance polyester/nylon construction; Turn, a durable polyester/polyester chenille in a larger scale pattern with a slight moiré effect; and Slide, a highly graphic luxe-cotton/polyester/nylon construction with an exaggerated ridge-like texture.