These finishes, fittings, and furnishings are ideal for condos, mixed-use high-rises, vacation homes, and other high-end residential interiors.
---
Eminent Woods
Fiandre
granitifiandre.com
This porcelain wall- and floor-tile collection emulates the process of wood fossilization that occurs over millennia. The ancient wood look finish is available in two color options: Eminent Grey, which features gray variegation over a white background, and Eminent Brown, which has more of a natural wood-like color. The tiles are available in a range of square and rectangular sizes in two finishes.
---
Vettis Concrete Faucet
Brizo Kitchen & Bath Company
brizo.com
Designed by TJ Eads, and crafted from hand-poured concrete by expert sculptor Christopher Shannon, the single-handle Vettis faucet is available in a limited edition of 500. It is made from ultra-high-performance, fiber-reinforced concrete with an infusion of pure charcoal to give the faucet its signature hue. The high-end bathroom faucet is WaterSense-labeled, flowing at 1.2 GPM. The drain is sold separately and is not available in a concrete finish.
---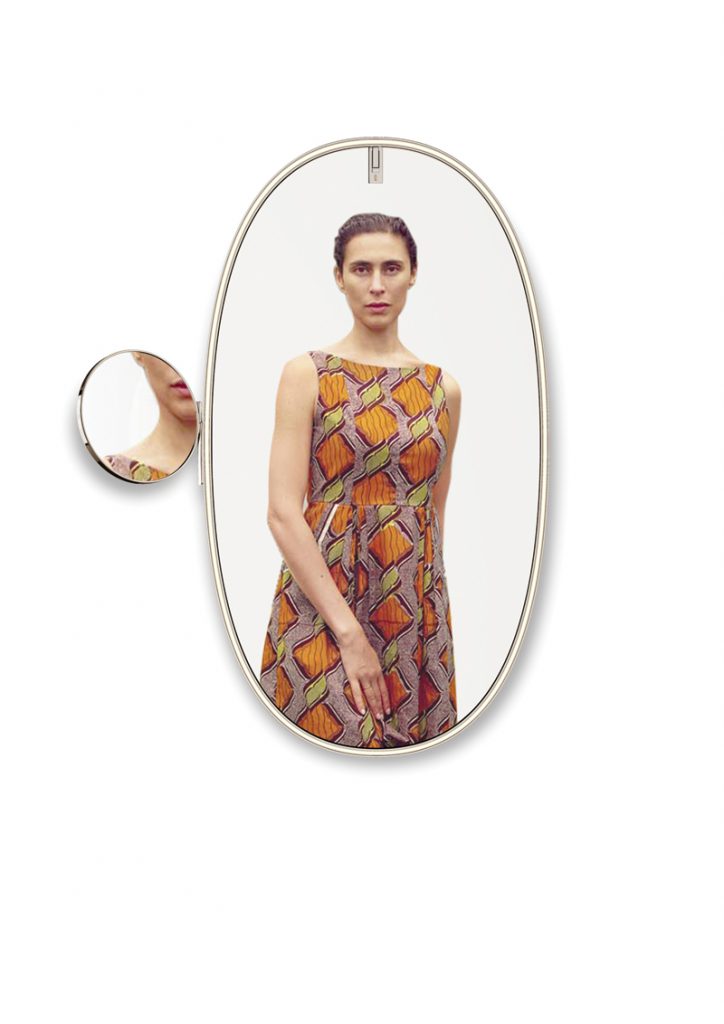 La Plus Belle
Flos
flos.com
Designed by Philippe Starck, this elegant, oval mirror has an LED lighting source integrated along the edge, hidden under an optical silicone diffuser. Measuring six-and-a-half feet high, the mirror features a thin, aluminum frame available in a range of finishes. The lighting offers a CRI of 95, a soft white color temperature of 2700K, and is manageable by a dimmer via a sensor integrated into the mirror.
---
A.I. Series
Kartell
kartell.com
Kartell, Philippe Starck, and Autodesk collaborated to create the world's first production chair co-designed with artificial intelligence. Autodesk provided Starck with access to a research prototype of its generative design software. Starck challenged the A.I. software to design a comfortable chair using the least amount of material; the software then explored all the possible permutations of a solution, generating design alternatives and learning from each new iteration.
---
Hearth Oven
Monogram
monogram.com
The Hearth Oven brings the performance of a wood-fired brick oven indoors. Handcrafted in brushed stainless steel, the kitchen appliance features LCD touch controls, preset cooking options for a variety of foods, and controllable heating zones on both the top and bottom of the oven. The oven offers 1.45 cubic feet of capacity, fits a standard 30-inch-wide cabinet cutout, and requires no additional ductwork or ventilation, thanks to an integrated oven ventilation system.
---
Push Buttons
Forbes + Lomax
forbesandlomax.com
These high-end decorative light switches are designed to be used as controls for home automation systems, offering a nostalgic alternative to the typical plastic keypads. Designed to blend into the décor, the switches can perform all the same functions as typical keypads, such as dimming, selecting preset lighting schemes, operating blinds and shades, and turning the entire house "off" with a single push of a button. Finishes include nickel silver, stainless steel, antique bronze, and more.