This roundup of landscape products includes permeable pavers to help better manage stormwater in flood-prone Houston, and a custom woven wire mesh green wall created for the lobby of an eco-luxe hotel in Brooklyn.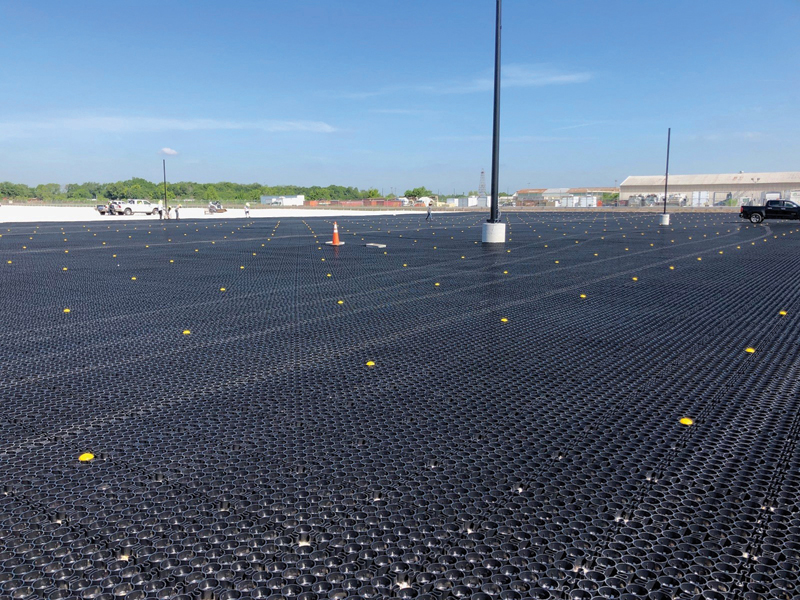 TrueGrid Permeable Pavers
TrueGrid
truegridpaver.com
Manheim, the largest U.S. network of physical and digital wholesale vehicle auctions, recently completed a two-year, $6 million plus investment for the Manheim Texas Hobby site in Houston. A TrueGrid permeable paving system specified in a recently added 15.25-acre parking lot helped provide a cost-efficient and eco-friendly alternative to concrete and asphalt. Made from 100% post-consumer recycled HDPE, the pavers remain cooler on traditional surfaces and dramatically reduce the urban heat island effect. Ideal for flood-prone Houston, the permeable pavers help stormwater drain instantly while leaving no runoff, naturally filtering harmful hydrocarbons and pollutants, and eliminating the need for a retention pond.
FencePost Planter Series
Kornegay Design, A Landscape Forms Company
kornegaydesign.com
The patterns created to make the molds for Kornegay Design's FencePost Series of planters were formed from reclaimed cedar fence rails and then sandblasted to reveal the wood's textured surfaces. A delicate cut at the base of each FencePost planter is intended to lift the planters and add a bit of drama. FencePost landscape containers are made of high-strength 6000+ PSI concrete, come in three sizes, and are available in endless color options. The short planter measures 30-in-high with a bottom diameter of 15.5-in; the tall planter measures 42-in-high with a bottom diameter of 18-in, and the tub planter measures 24-in-high with a bottom diameter of 31-in.
Connect 2.0 Shelter
Landscape Forms
landscapeforms.com
Created in partnership with BMW Group Designworks, Landscape Forms' Connect 2.0 shelter is a minimalist aluminum structure that uses on- or off-the-grid layered LED lighting for illumination. The ADA-compliant shelter is available in two sizes and with multiple tempered glass and open panel configurations. The shelter offers tempered glass, honeycomb aluminum panel, and aluminum louvered roof options that can address site requirements and climate conditions.
Custom Woven Mesh Green Wall
Banker Wire
bankerwire.com
Banker Wire, a leading manufacturer of woven and welded wire mesh for architectural and industrial applications, offers custom solutions that can be used for hospitality landscape interiors. Banker Wire's woven wire mesh I-21 pattern, powder-coated in black, was used to create a woven fixture screen and welded hanging baskets for vegetation in the lobby of the newly opened 1 Hotel Brooklyn Bridge in Brooklyn's DUMBO neighborhood. New York City landscape design firm Harrison Green developed the initial green wall concept and approached living wall manufacturer and installer AgroSci to create the 25-ft installation in line with 1 Hotel's eco-theme. AgroSci chose the intercrimp motif, commonly seen in urban-inspired window guards and fire escapes, to give the impression that plants were "reclaiming" the location.
Pixel Collection
Maglin
maglin.com
Inspired by the concept of a pixel, the Pixel Collection of modular site furnishings can be adapted for a range of public spaces, including parks, courtyards, and campuses, to pop-up street venues and urban microgardens. Intended to increase social interaction, the collection includes an interchangeable series of blocks and tops that can be used to create everything from large-scale platform seating to lounge chairs, garden planters, tables, and more. The easy-to-install collection is available in a range of sizes, colors, styles, and materials.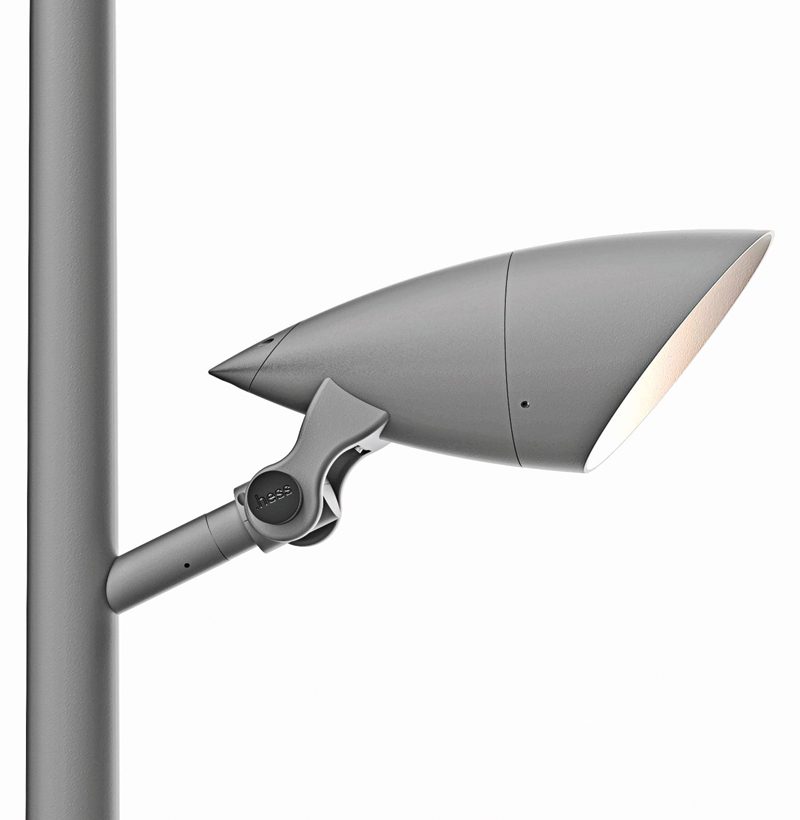 Arini
HessAmerica
hessamerica.com
With a distinctive, truncated teardrop-shaped housing and shroud made of die-cast aluminum, the Arini flood and accent lighting fixture is suited to public spaces, including stadiums, convention centers, fairgrounds, theme parks, public squares, and promenades. Arini provides illumination through six high-power LEDs in warm or neutral color temperatures. Five light distributions include spot, medium, wide, and elliptical beams in horizontal and vertical orientations. The luminaire may be specified with an optional illuminated accent on the rear of the housing for colored LED highlighting or way-marking in single color or RGBW. Ranging in height from 17 ft to 33 ft, the fixture's aluminum or steel poles are available in straight, angled, and curved styles and may accommodate several luminaires depending on height and wind loading.