Six Austin-based design teams light up the night November 9 through 17. The Waller Creek Conservancy Creek Show, a free, family-friendly art experience returns for the fifth year in a new location. The Creek Show is open to the public every night from 6:00 pm. to 10 pm. The six luminescent, site-specific art installations from local artists and designers will be along Waller Creek between 9th and 11th street. The 2018 Creek show will take place along a different stretch of the creek, allowing visitors to see the newly renovated Symphony Square where attendees can visit the Creek Show Lounge to learn more about the transformation of Waller Creek. Live band performances will also occur nightly on the Love Tito's Music Stage and include:
Friday, Nov 9 – SaulPaul
Saturday, Nov 10 – Superfonicos
Sunday, Nov 11 – Cowboy Diplomacy
Wednesday, Nov 14 – Montopolis
Thursday, Nov 15 – BidiBidiBanda
Friday, Nov 16 – Big Wy's Brass Band
Saturday, Nov 17 – Night Drive
The Doyle House at 1007 Red River Street will be hosting various free interactive family-friendly activities and games for every night between 6:00 pm. to 10:00 pm. The Thinkery and Stars & Science Austin will also be on-site on Fridays and Saturdays from 6:00 pm. to 8:00 pm.
The 2018 Creek Show installations and design teams include:
Parabolus
By Aod
Jose Roberto Corea (lead)
Courtney Jones Burton
Gretchen Leigh Du Pré
Jeff Fletcher
||| L I G H T  L I N E S |||
By Campbell Landscape Architecture + Tab
Cameron Campbell (lead)
Bill Baird
Taurin Barrera
Stuart Campbell
Jenny Janis
Viddhi Jhaveri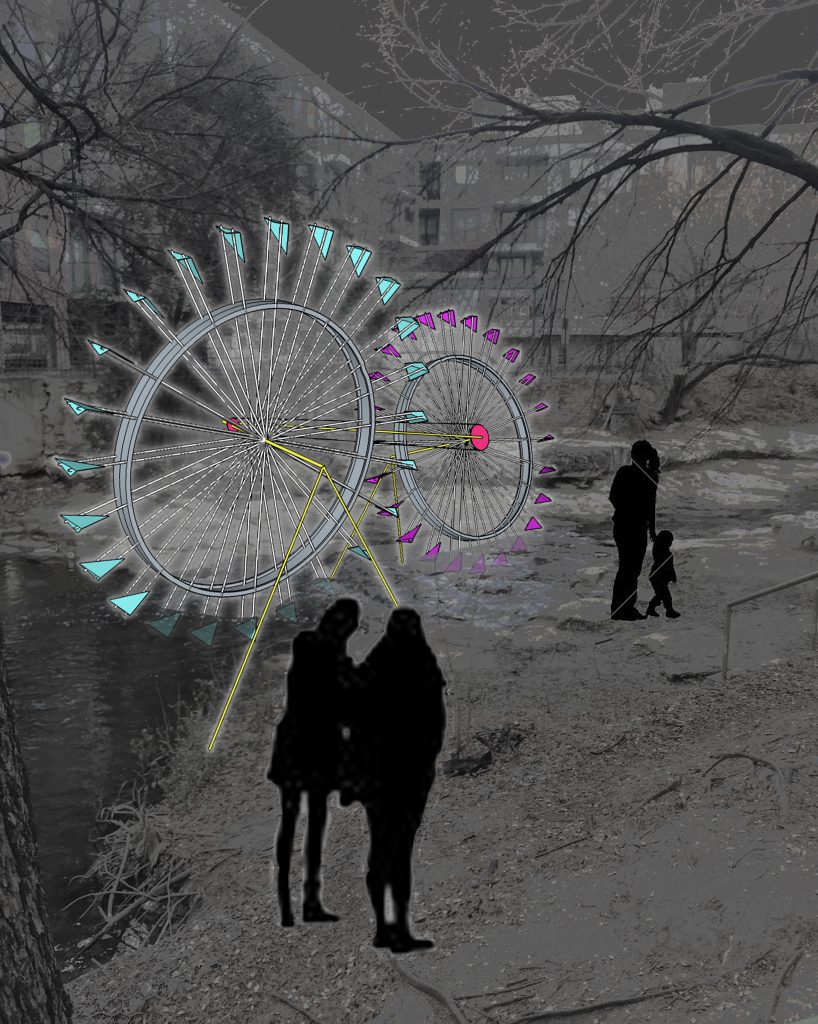 la noria
By Drophouse Design
Christian Klein (lead)
Matt Satter
Christy Taylor
Urban Scrim 
By Lemmo Architecture and Design
Ryan Lemmo, AIA (lead)
Stephanie Lemmo, Assoc. AIA (lead)
Jonathan Butler
Julia Martinelli
Tentsion
By Perkins+Will
Chet Morgan (lead), Assoc. AIA
Jenny Adair
Caitlin Admire
Aaron Manns, AIA
Emilie Ogburn
Ellen Saathoff, Assoc. AIA
Paul Ward
Ambedo βeta
By Polis
Daniel Goodwin (lead)
Brianna Graves
Olivia Nguyen
Bruce Wilcoxon