These new kitchen and bath products include hand-finished tiles and faucet handles and the latest smart technology in cooking and cleaning.
Lowell Bath Wood Console
DXV
dxv.com
DXV has added wood consoles with leather accents to its Arts & Crafts-inspired Lowell bath furniture collection. Offering an alternative to traditional pedestal sinks in master baths and powder rooms, the consoles feature solid wood legs in a choice of natural oak with cognac leather accents or graphite with black leather accents on the console spokes. The console legs are juxtaposed by the clean lines of the wall-mounted sink and the polished-chrome front towel bar.
Front Load 24-in Washer & Dryer
Fisher & Paykel Appliances Inc.
fisherpaykel.com
Fisher & Paykel's compact, 24-in front-loading washer and dryer are now available in the U.S. and Canada. Available in stackable or side-by-side options, the new compact laundry can handle loads up to 2.4 cubic ft per cycle. Two washers are available: the FabricSmart Front Loader, with a new steam function, and the WashSmart Front Loader Time Saver option for fast washes. With a capacity of 4.0 cubic ft, the dryer's condensing technology makes installation simply a matter of plugging in. No venting required.
GE Café Slide-In Ranges
GE
geappliances.com/connect
The GE Café slide-in ranges are WiFi- and Bluetooth-enabled, allowing owners to preheat, set timers, and change temperatures from their smart devices. The gas and dual fuel GE Café slide-in model (shown) comes with six burners on a 30-in range and a double oven — all in the same space used by most standard upright ranges. The GE Café electric slide-in range includes an induction cooktop in a single or double oven and is the first and only range to come standard with a precision cooking probe that monitors liquid temperature and then communicates adjustments to the connected range and a smartphone or tablet via Bluetooth.
Elements
Watermark Designs
watermark-designs.com
This faucet collection takes customization to a new level with a choice of more than 380,000 design options. Elements offers handle styles grouped into four material categories: Raw (hand-poured, sealed, and reinforced concrete); Rock (hand-finished natural stones and marbles); Lumber (real wood grain and texture captured and sealed into concrete); and Forged (metal applied in a liquid format onto a substrate). The faucets come with brass bases, decorative insert options, and several spout choices available in any of Watermark's 24 finishes.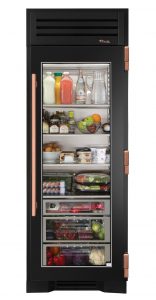 Custom Finish and Hardware Options
True Refrigeration
true-residential.com
True has introduced custom color finishes and hardware options for its full-size refrigerators and new column refrigeration units. The new custom finish colors include Antique White, Matte Black, and Gloss Black, while new hardware options include copper, brass, and chrome. An interactive "Build Your True" tool allows users to visualize different customizations in a kitchen setting, which can then be easily downloaded and shared with clients through social media platforms.
Tangram Collection
Hastings Tile & Bath
hastingstilebath.com
Tangram is a kaleidoscope-inspired collection of interior floor and wall tiles from Ceramica Bardelli. The range includes 15 white glazed stoneware designs with a matte finishing in four color groups. The collection of 8-in-by-8-in, .28-in-thick hand-brushed geometric designs is completed by a selection of matching tiles with brush strokes in solid colors and a solid color glazed tile with
a matte finish.