The Texas Society of Architects announces our 2017 Honor Award winners. These awards recognize exceptional members, firms, individuals, and organizations for outstanding achievements in support of the profession of architecture, the built environment, and quality of life in Texas. Recipients will be recognized at various events during our 78th Annual Conference and Design Expo, happening on November 9–11 in Austin. Congratulations to all our honorees!
Medal for Lifetime Achievement in Honor of Llewellyn W. Pitts FAIA
Larry Speck, FAIA
Senior Principal, Page
Professor, The University of Texas School of Architecture
Renowned design architect, esteemed academician, and legendary proponent of the power of architecture to influence the world — Larry Speck has made an indelible mark on the profession, and on the built environment of Texas and beyond. Through roles such as senior principal at Page, professor and dean at The University of Texas at Austin School of Architecture, TxA president, and chair of the AIA Jury of Fellows, he has advanced the profession, worked to increase its prominence in American culture, and served as a generous mentor and an inspiration to other architects and emerging professionals — all while consistently designing thoughtful, elegant, enduring works of architecture.
Architecture Firm Award
Corgan
Corgan is a leading international design firm with a rich legacy of designing great buildings throughout Texas and internationally. A studio-based firm comprised of six award-winning studios — aviation, commercial, critical facilities, education, healthcare, and interiors — its designs are experienced by millions across the state every day. Corgan's reputation is one of deep technical expertise combined with great service to their clients, their people, and the community. The firm has decades of supporting nonprofit organizations through partnerships, financial contributions, and volunteerism, and a history of leadership and service to AIA.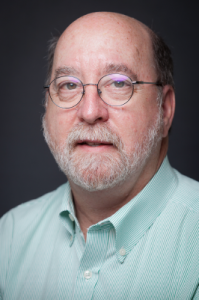 Award for Community Service in Honor of James D. Pfluger FAIA
Jim Susman, AIA
Principal and President, STG Design
Jim Susman's significant, continued, and consistent volunteer and professional community contributions have made a tremendous difference to local families, nonprofits, the underserved, and the profession of architecture. Susman has 32 years of leadership and involvement with the Austin Children's Museum, now The Thinkery, and two decades with the Dell Jewish Community Center. He has also worked with Helping Hand Home for Children, St. Andrew's Episcopal School, and Community First! Village. His work has been a lifeline for organizations with limited resources, helping them move into homes that support and augment the critical work they do every day.
Award for Outstanding Educational Contributions in Honor of
Edward Romieniec FAIA
Nichole Wiedemann, AIA
Associate Professor, The University of Texas at Austin School of Architecture
Nichole Wiedemann has taught for 25 years — 20 years at The University of Texas at Austin, along with positions at the Rhode Island School of Design, MIT, University of Florida, and University of Arkansas. Hundreds of students have benefited from her research, writing, guidance, and open-ended teaching, which encourages students with different perspectives to be active participants in the inquiry and formation of knowledge. Wiedemann has also worked to make the profession more inclusive, most notably through her work on the School of Architecture's Diversity Task Force, which resulted in a significant increase in the diversity of the student body.
Award for Young Professional Achievement in Honor of
William W. Caudill FAIA
Jesse Hager, AIA
Founder/Architect, CONTENT Architecture
Licensed since 2010, Jesse Hager has consistently produced award-winning designs, from large projects with HOK Houston to smaller projects with his own firm, Content Architecture. He has also been an enthusiastic volunteer and leader at AIA Houston, boldly pressing for changes that have made the chapter stronger. Hager has written about architecture for Texas Architect, Cite Magazine, and other publications. He has also contributed to the profession as an educator, first at Prairie View A&M and then at the University of Houston, greatly esteemed by students and faculty alike.
Associate Member of the Year
Jack Murphy, Assoc. AIA
Designer, Baldridge Architects
Artist, writer, and designer Jack Murphy is being recognized for his significant contributions to Austin's architectural community and design culture. Through his work with AIA Austin, he helped evolve the chapter's Design Awards program from a peer-to-peer party into a celebration of design for the public. Murphy has also become known for his thoughtful, intelligent articles such as "55 New Ways of Looking at Marfa," which he writes for Texas Architect and other publications, that weave together the various narratives and subtle nuances of a project/place with a steady, critical eye.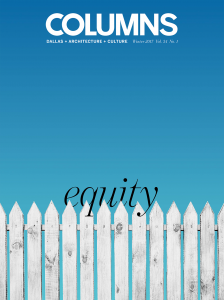 Award for Excellence in the Promotion of Architecture through the Media in Honor of John G. Flowers Hon. AIA
Columns Magazine
A Publication of AIA Dallas
AIA Dallas' Columns magazine has always been a beloved benefit of AIA Dallas membership, but over the years, it has evolved into a publication that also engages the broader public on the subject of the built environment and its impact on our daily lives. Volunteer-led and produced, Columns delves into topics ranging from urban planning, mobility, and landscape architecture, to technology, historic architecture, civic involvement, and more. Columns has received local, regional, and international awards for excellence, greatly expanding the chapter's reach and influence.
Award for Excellence in the Promotion of Architecture through the Media in Honor of John G. Flowers Hon. AIA
Luis Ayala, AIA
Photographer
Design Director, Gensler Houston
Luis Ayala is a practicing architect who has turned a hobby of photography into a second profession. A native of Paraguay, Ayala is currently design director at Gensler Houston. He has been sought out by architects across the state for his gift at showing a building in its best possible light, and for his ability to capture the details of light and shadows non-architect photographers might miss. His work is praised for bringing projects to life in a brilliant way, and for capturing the emotional qualities — the story, spirit, and soul — of the spaces he helps to document.
Artisan Award
Don Crowell
In the early 80s, Don Crowell realized the need for a builder that could work with local architects to build unique, contemporary, and challenging designs. He founded Don B. Crowell Inc. in 1984 and has since completed more than 100 projects, setting the bar for expectation of service and quality in residential construction. His collaborations (among them Concrete Studio with Mell Lawrence Architects, Water House with Dick Clark + Associates, and Residence 1446 with Miró Rivera Architects) have yielded dozens of design awards and national and international recognition. Crowell's drive, attention to detail, and commitment to always finding a solution set him apart as a master builder.
Citation of Honor
Dallas Arts District
The Dallas Arts District has been a formidable partner in changing the landscape of Dallas by providing a platform for the arts, culture, and architecture to come together in one place. Comprising 68 acres of the city's most significant cultural landmarks, the District serves as the largest contiguous urban arts district in the nation. It is home to a number of world-class facilities, several of which were designed by internationally acclaimed architects, including Edward Larrabee Barnes, I.M. Pei, Renzo Piano, Norman Foster, and Rem Koolhaas.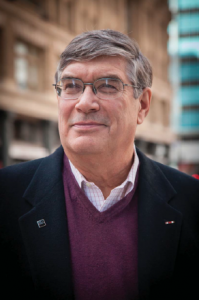 Honorary Membership
Peter DeLisle, Hon. AIA Dallas
Peter DeLisle has a background in leadership education in technology, and has conducted leadership development programs for more than 300 companies and agencies worldwide. For almost 10 years, he has collaborated with AIA Dallas to develop the chapter's national award-winning Emerging Leaders Program and expand it into a variety of other leadership programs empowering the next generation of architects. These programs have influenced, inspired, and strengthened many members as they have become leaders in their respective firms, the profession, and their communities.
25-Year Award
Moore/Andersson Compound
Three miles west of downtown Austin, postmodernist architect Charles Moore and business partner Arthur Andersson created a utopian center to live/work/teach that continues today under the auspices of the Charles W. Moore Foundation. Over the course of its development between 1984 and 1992, the place became a study in contrasts, combining old and new, rural and urban, and sophistication and whimsy into an urban landmark.